The best reds for mulled wine (and how to make your perfect batch)
Author: Jack Biddles
Date Posted: 15 June 2023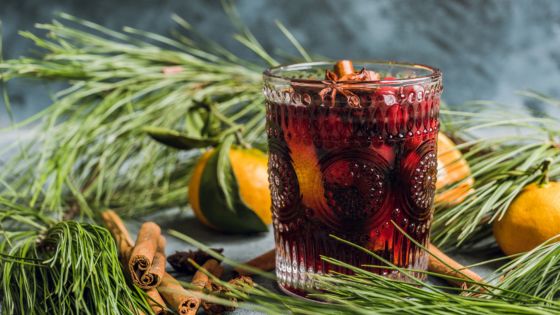 It's officially mulled wine season and we're keen. Just like we chill only the right red wine varietals in summer, we too are selective with the reds we mull in winter; think spicy, almost festive, aromas and flavours. When choosing the best varietals for mulled wine, personal preference does come into it; some call for full bodied, robust reds, while others prefer the spices to do the talking and more mild reds to support them. However, in the many winters we've shared with wine, we have a few of our own picks for which are best for your mulled wine recipe. We can smell that warm spiced aroma floating through the house already…
Tulloch's favourite varietals for mulling
This is considered a classic for mulled wine, and we can see why. It has rich tannins to balance out the sweetness of spices like cinnamon - especially if you prefer to add sugar or honey at the very end to counter any bitterness. It also has a sturdy enough texture to withstand the mulling process without losing or damaging its flavours.
With the peppery, spicy flavour of shiraz, it's a great match for the cinnamon and cloves in mulled wine recipes with its blackberry and plum notes. It's a bold iteration of mulled wine, and can be balanced with addition of citrus fruits like oranges. It also looks impressive with its dark-skinned grapes. It looks substantial, tastes bold and full of flavour and pairs with pretty much any winter warming food from roasts to velvety blended soups.
This is great if you're new to mulled wine, both tasting and making. Barbera has lighter, fruitier flavours that let the spices and additional fruit shine, while still giving a bold enough taste for a highly enjoyable mulled wine experience (and not just spice and fruit floating in a pale wine).
Ultimately, though, the best red wine for mulled wine will depend on your personal preferences and the specific recipe you are using. Experiment with different types of red wine to find the one that you like best.
The key to a great mulled wine comes down to how you mull it…
Never overheat your wine
The actual heat you use depends on the wine you're using; some wine varietals can withstand more heat, while others lose their taste integrity and alcohol can vaporise. However, a basic rule of thumb is to warm it until it's only almost too hot to touch, and do not let it boil. Once it has reached the temperature you want (anything below 78oC will keep the alcohol from vaporising), take it off the heat (or low heat simmer) and let your spices, citrus and/or berry additions marinate in the liquid for around half an hour.
Consider your spice combinations
There's no perfect recipe for mulled wine that isn't also simply someone's personal preference. Some people like just a touch of 'Christmas-y' spices like cinnamon and nutmeg to complement lighter wines, while others love to pile in the cherries, berries, citrus fruits and stronger spices like cardamom. Others like something in between. Start with the wine you're using and take it slow; gradually add different spices and flavours and taste as you go to find your perfectly balanced mulled wine. (TIP: Eat a plain cracker or small piece of plain bread in between tasting to neutralise your palate).
Not sure where to start? Give this simple, but incredibly flavoursome recipe a go:
Ingredients:
- 1 bottle of red wine
- 1 orange, sliced
- 1/2 cup of sugar
- 8-10 whole cloves
- 2 cinnamon sticks
- 2 star anise
- 1/4 teaspoon of nutmeg
- 1/4 teaspoon of allspice
- 1/2 cup of brandy (optional)
Instructions:
1. Pour the red wine into a large pot or slow cooker.
2. Add the sliced orange, sugar, cloves, cinnamon sticks, star anise, nutmeg, and allspice to the pot.
3. Stir the ingredients together and then heat the mixture over medium-low heat until it begins to simmer.
4. Reduce the heat to low and let the wine simmer for 15-20 minutes, stirring occasionally.
5. If desired, add the brandy to the pot and let it simmer for another 5 minutes.
6. Remove the pot from the heat and let it sit for 5-10 minutes to allow the flavours to meld together.
7. Strain the mulled wine through a fine mesh sieve to remove the spices and orange slices.
8. Serve the mulled wine warm in heat-resistant glasses or mugs, garnished with a cinnamon stick or orange slice.
Feel free to adjust the amount of sugar and spices to suit your taste!