Your Team


Christina Tulloch - CEO
Christina Tulloch is the great granddaughter of the original founder and the youngest daughter of Jay & Julia Tulloch. She is now the fourth generation of the family to be involved in the business in her capacity as Tulloch Wines CEO. Christina first started work with Tulloch in 2003 as Cellar Door Manager, following a past in journalism, marketing and public relations. Christina and her Texan husband, Alex, met at the Tulloch Cellar Door in 2004 when he visited for a wine tasting and was served by Christina. Alex and Christina have a daughter, Evie Gwendolyn Morton and a son William Hector Morton.
Favourite Tulloch Wine: G Series Very Limited Release G4 Chardonnay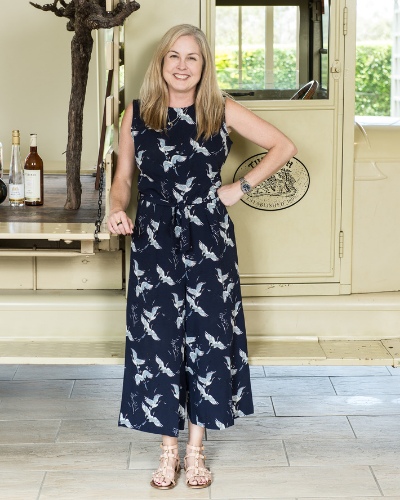 Brad Russ - Operations & Marketing Manager
Having worked in the Wine Industry for 24 years, Brad has been a familiar face at Tulloch Wines for the past 10 years. His role as Marketing and Operations Manager sees him busy both behind the scenes and leading the team and you will no doubt see him at our many Member events throughout the year. Brad currently sits on the Board for the Hunter Valley Wine and Tourism Association, heading up the Marketing Sub-committee and is involved in many activities to promote Hunter Valley Wine Country.
Favourite Tulloch Wine: Limited Edition Cellar Door Release Cabernet Sauvignon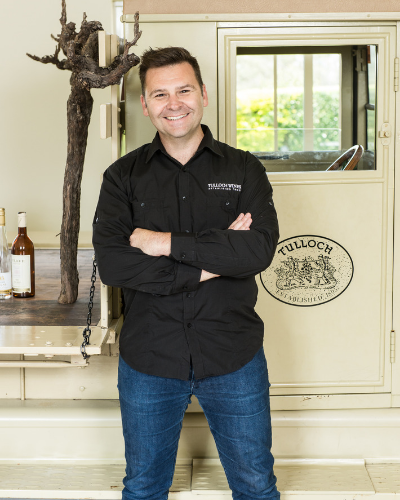 Matt Slee - Cellar Door Manager
Matthew Slee has worked in the hospitality industry on and off since he was 18. A continuing and enthusiastic interest in the wine industry has led to a role with Tulloch wines that is now 7 years ongoing.
Favourite Tulloch Wine: Limited Release Julia Semillon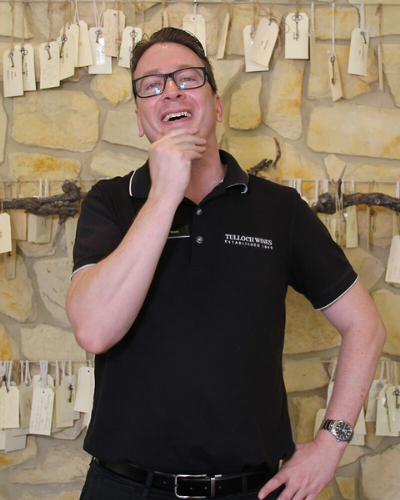 Ady Lind - Assistant Cellar Door Manager
Adrienne was raised & educated in England and spent 4 years working in resorts and hotels throughout Europe & the Mediterranean before emigrating to Australia in 1994. After moving to the Hunter Valley in 2000 to open her own patisserie a natural progression to the wine industry followed 8 years later. She has been working with Tulloch Wines for the past 4 years as our Assistant Cellar Door Manger.
Favourite Tulloch Wine: Limited Release Julia Semillon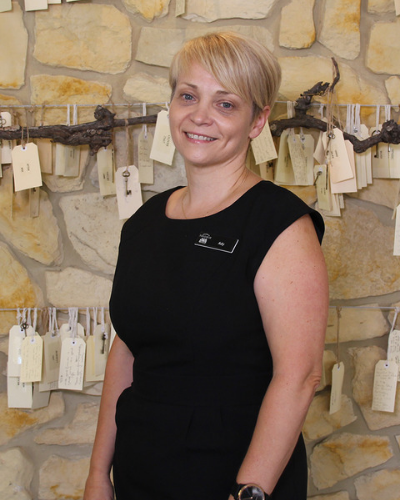 Brady Sams - Direct Sales Supervisor
Brady is the man with the most nicknames and our very valued Marketing Coordinator. The driving force behind the very full events calendar, Brady loves the challenge of taking Tulloch Wines to members and their friends throughout Australia. He has a passion for music festivals and snow skiing. You will find Brady manning the bar at all the fun events where he weaves his wine magic and provides members and guests with an exceptional customer experience.
Favourite Tulloch Wine: Cellar Door Release Barbera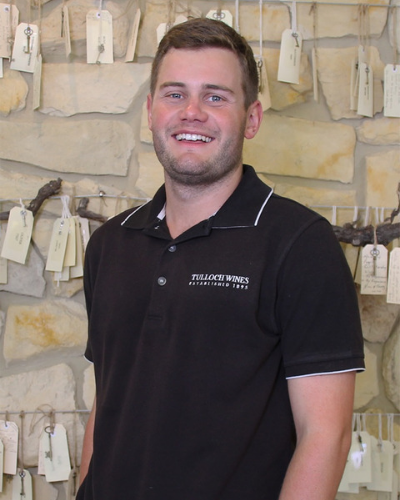 Amanda Tweedie - Accounts Supervisor
Born and raised in the Hunter Valley, Amanda commenced working in the wine industry in 2005, and joined the Tulloch team in April 2015 as Account Supervisor. AKA Tweeds, she deals in numbers not words and is everyones favourite person on pay day.
Favourite Tulloch Wine: Tulloch Cellar Door Release Pinot Gris.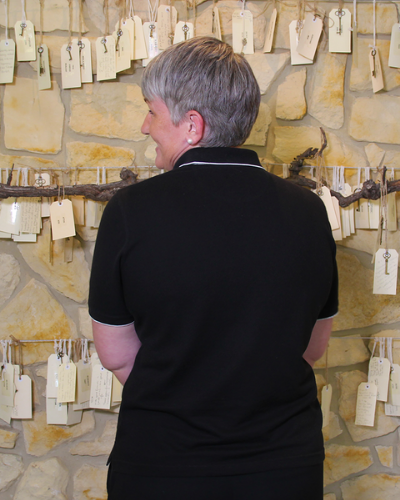 Charleigh Storm Davidson - Wine Club Supervisor
Our gorgeous 'pommy', Charleigh is both behind the scenes in our wine club and is also the fun personality in our Members Tasting Lounge on a Saturday. Charleigh has the knack of knowing exactly what wines you will love and is happy to take you through the range or make recommendations when it comes to Members wine selections. Her knowledge of Australian suburb pronunciation is often quite comical – so test her with yours!
Favourite Tulloch Wine: Limited Release Julia Semillon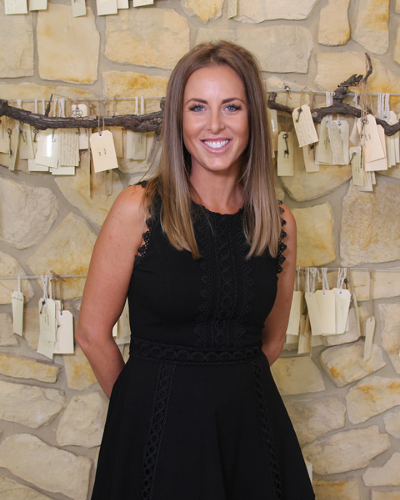 Alex Garred - Digital Marketing Manager
Alex Garred is our Digital Marketing Manager, having joined Tulloch Wines in 2018. He works to film, photograph and document everything that makes Tulloch Wines amazing so that it can be shared with each of you online. Straight out of University Alex landed at ABC Radio, spending 18 months travelling across NSW telling people's stories. He then returned to Newcastle to work in advertising, specialising in Digital Marketing. Alex has recently embarked on married life with his partner of eight years, Grace.
Favourite Tulloch Wine: Cellar Door Release Sangiovese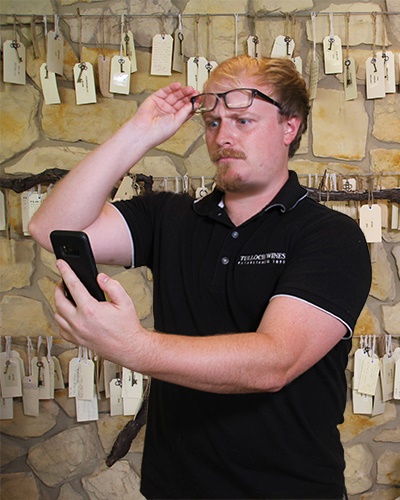 Sam Skinner Smith - Warehousing, Packing & Cellar Door
Budding muso Sam, joined Tulloch in a dual role of logistics and Cellar Door operations. He is the cog behind the scenes packing our Wine Club orders and enjoys nothing more than getting behind the bar to talk to our guests about wine. New to the Wine Industry, Sam is eager to hear what Members and guests think about our wines and has a bright future ahead.
Favourite Tulloch Wine: Cellar Door Release Barbera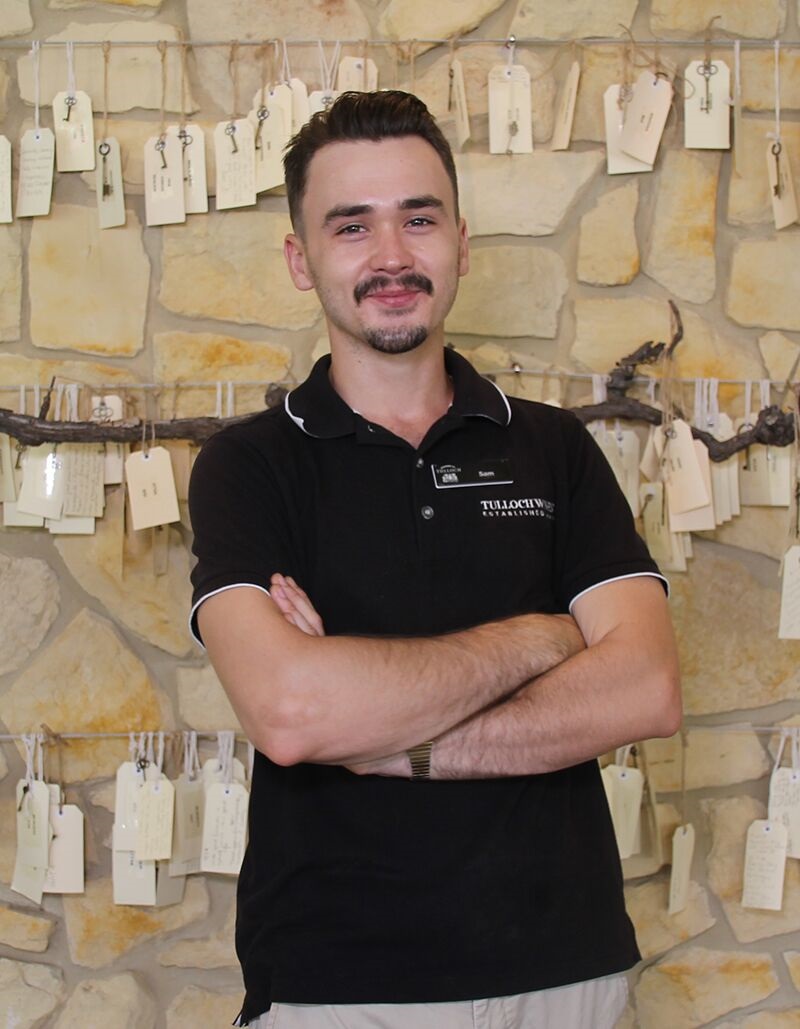 Annie King - Wine Club & Cellar Door
Annie joined Tulloch Wines nearly 8 years ago in cellar door sales as a way of indulging her love of a good drop, while also allowing her to be a full time mum. One of Annie's previous career highlights was selling explosives to the local mines and on weeknds when she is not at cellar door she enjoys camping and water skiing with her family. Often Annie is the bubbly voice at the end of the phone when you call cellar door and continues to be an important part of the team as her kids become more independent.
Favourite Tulloch Wine: Cellar Door Release Vermentino