At home tasting: wine & movies - the best films to watch with a glass in hand
Date Posted: 9 August 2023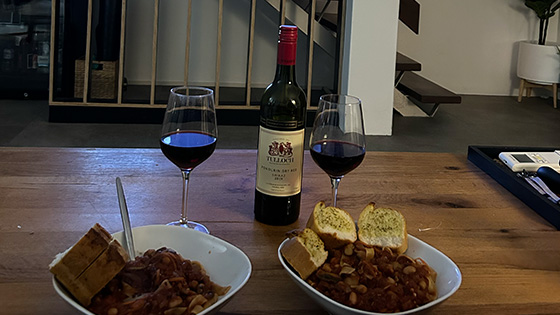 Winter has set in. We're all curling up on the couch streaming our favourite shows and films with our favourite wines. Scientifically backed pairing? Nope. A little insight into our psyche? Certainly! We aren't reinventing the wheel for screen and sip time, but we also know it can take twice as long to choose what you want to watch as it does to watch it… Let's cut to the cinematic chase and enjoy our Tulloch wine and screen time guide to try for yourself.
Team Member: Stephanie, Cellar Door
Bingeing on George Michael Documentary while sipping on Hector Shiraz
Two legends in their field, what better pairing could there be? Hector's velvety blackcurrant and plum is a perfectly moody partner to watching the profound humanity behind a larger-than-life public persona. The integrated oak that gives this wine great persistence is mirrored in the posthumous star's own persistence. Mostly though, it's a film to really absorb yourself in. He has this gregarious public exterior that managed to define several decades, while having a deep desire for privacy and to just be happy. You don't want to be scrolling Insta through this one, and the Hector is equally savourable. You'll laugh, you'll cry, you'll cuddle your glass.
Team Member: Annie, Wine Club
Bingeing on Muster Dogs while sipping on Private Bin Shiraz
Ok, so now we're crying for a totally different reason. No waxing lyrical on this one, it's straight up heartwarming wholesome entertainment. The premise: five Kelpie brother and sister pups are trained to be champion muster dogs and Oh. God. This is the cutest viewing you'll see. Pairing with fresh spicy Private Bin Shiraz matches the mood perfectly.
Team Member: Amanda, Accounts
Bingeing on Stepbrothers while sipping on Pinot Gris
So much room for activities! Fresh peach and racy acidic base, the Pinot Gris is the natural third brother to kidults Dale and Brennin. You want a wine that is light and fresh to keep up with the high LOL vibe of our favourite misguided sibling rivalry pair who gave us every quote we're yet to be sick of, even if when it was released we laughed so hard we fell off our dinosaur.
Team Member: Mackenzie, Cellar Door
Bingeing on Yellowstone while sipping on 88 Red
Bringing back the drama, and commiserating a little that it's next season is its last, Yellowstone's densely packed storyline and character development sits well with the balanced dark sweet berry flavours of the 88 Red. It's full of flavour but isn't too bold to be overbearing, which helps to balance the steady deep dive into external and internal conflict of humans who are super invested in ranch life.
Team Member: Christian, Cellar Door Manager
Bingeing on Animal Kingdom while sipping on Pokolbin Dry Red
Animal Kingdom is extra special due to its Aussie origins, and the US version does do it justice even if it's definitely had a 'merica drama makeover. The velvet tannins and spicy oak balanced with the soft berry flavours of the Pokolbin Dry Red gives you the same kind of ride the show gives you: drama with mellow sentimentality, conflict with dry comedy, wisdom with angst; the ebb and the flow of moody TV walking hand in hand with the depth and lightness of the shiraz.