15 wine facts to sneak into your next dinner party
Author: Jack Biddles
Date Posted: 25 May 2023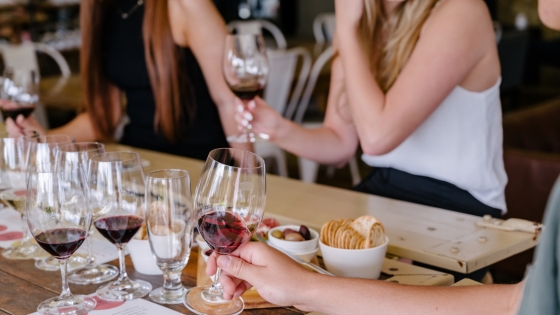 Dinner parties: Food, wine and friends… find us a better way to spend your time. We'll wait…
It's one of our favourite things in life, all gathered at one table. While conversation might roll easily when you're surrounded by the people you know and love, it's not always like that. We're surely not the only ones who have been at the table next to the new addition to the social circle (who you've yet to meet), or the aunty at table 7 at your friend's wedding (aren't sit down receptions just one big dinner party?), or one designed around you meeting your date's friends. It can be a little awkward to strike up sparking conversation. So, get your palm cards out, here are some fun wine facts to sneak into your talk piece repertoire to get the ball rolling…
1. Wine was first discovered around 6,000 years ago in what is now modern-day Georgia.
2. The Hunter Valley is the oldest continuous wine region in Australia.
3. The oldest known bottle of wine dates back to 325 AD and was found in Germany in 1867. It is now on display at the History Museum of the Pfalz in Speyer, Germany.
4. The colour of red wine comes from the skins of the grapes.
5. The term "vintage" refers to the year the grapes were harvested, not the year the wine was bottled.
6. Champagne can only be called "Champagne" if it comes from the Champagne region of France and is made using specific methods.
7. The shape of a wine glass can affect the taste and smell of the wine. A narrow glass can concentrate the scent, while a wider glass allows for air contact and oxidation, diluting the aroma.
8. The ideal temperature for serving red wine is between 16-18oC, while white wine should be served slightly cooler, between 7-9oC. However, some red wine varietals are best served chilled!
9. The tannins in red wine come from the skins, seeds, and stems of the grapes used to make it, and can create a bitter or astringent taste and mouth drying sensation.
10. Wine can be aged in oak barrels to add flavour and complexity, with new oak barrels imparting stronger flavours than used barrels.
11. Often having no oak treatment, Semillon in the Hunter Valley is one of the quickest wines from grape to glass. You can find new vintage Semillon in the Cellar Door between six to 10 weeks after harvest.
12. One glass of wine equates to approximately one cluster of grapes; that's about five grape clusters in each bottle of wine.
13. The Hunter Valley produces less than 2% of Australia's total wine production, yet lays claim to as a world leader in dry white wines made from Semillon.
14. Verdelho is one of the most commonly grown grape varietals in its home country of Portugal, traditionally made in a fortified style, Madeira. As the popularity of table wine in Australia grew in the 1950s and 1960s Verdelho was blended with Semillon to produce what was then known as Hunter River Riesling.
15. The iconic Tulloch Verdelho that is known and loved by wine drinkers across Australia was originally introduced serendipitously. In 1982 Tulloch made a Verdelho that would not ferment out all of the sugar to produce a dry wine and ended up with a slightly fruity wine. Sold at the Cellar Door, it became an instant success, and a style that Tulloch is still proudly producing over 30 years later.
Looking for a wine to bring to your next dinner party? Here are our top suggestions:
Sparkling Cuvee Vineyard Selection - the quintessential party starter
Tulloch Range Verdelho - the crowd ultimate easy-drinking wine, it's a true crowd pleaser
Heritage Range Pokolbin Dry Red Shiraz - a hunter classic. Medium-bodied with soft spice, ripe red berry fruits and a subtle oak influence.