What are the most grown varietals in the Hunter Valley
Author: Brad Russ
Date Posted: 10 March 2023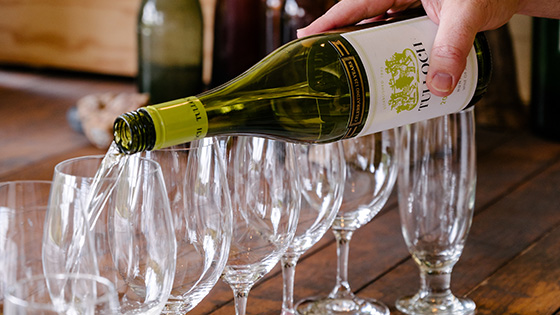 The synonymous relationship the Hunter has with wine is a really special thing. When you're visiting, there is a unique expectation of a feeling you'll experience with each wine varietal as is the flavours you'll enjoy. When it comes to wine popularity, the taste combined with how it's experienced usually guides the most loved wines in the region. Here are the most popular wine varietals in the Hunter Valley, and why they have such a following.
Semillon
Semillon is Synonymous with the Hunter Valley. Renowned British wine critic Jancis Robinson is famed for boasting that Hunter Valley Semillon is "one of Australia's great gifts to the wine world".
In its youth, Semillon is pale gold in colour and carries a vibrant citrusy, fresh and zesty taste. There's nothing quite like a glass of Semillon, paired with fresh prawns and oysters served with macerated lemon.
Our Hunter River White Semillon has a citrus and zesty sherbert flavour, pairing perfectly with summer salads, particularly if you include some sweetness like pomegranate or a squeeze of fresh orange.
In our experience, the popularity of Semillon is a testament to how celebrated the Hunter varietal is. It is one of the finest grape varietals grown in the region and has long cellaring potential, particularly for a white wine that generally spends minimal time in maturation and has no oak contact; a uniqueness that is appreciated and appeals to locals, visitors and has a globally recognised reputation.
Verdelho
Verdelho has a special place in Tulloch's heart; we've been producing the fresh, tropical and unoaked varietal for what seems like a lifetime. We have evolved our Verdelho to the fresh and fruity variety it is today. The popularity of the Tulloch Range Verdelho is an intrinsic part of the Hunter Valley story, with the slightly fruitier varietal a sell out in our cellar door from the first release 40 years ago.
With its distinctive fruit-forward flavours and fresh zesty finish. The Verdelho is the perfect, easy-drinking white wine. We often find visitors to our Cellar Door enjoy Verdelho's approachability. Similarly, it's the perfect gift choice; versatile, yet a special varietal with a long history for the Hunter region.
While a long-standing varietal in the Hunter, how it's enjoyed has changed over time. and we find it's often enjoyed with Asian-fusion dishes (that have a bit of bite to them). Its fruitiness brings out the flavour and neutralises the intensity of heat. While Verdelho has retained popularity for decades, this variety remains relevant as an easy food pairing wine for a wide array of cuisines.
Chardonnay
Oh Chardonnay… Where do we start? Popularity wise, it has been on quite a ride the last few decades. It's hard to tell if a certain Aussie twanged mother-daughter duo mispronouncing their favourite drop as 'cardonnay' helped or hindered its popularity. In any case, it is a famously very Australian wine to drink despite having some polarising moments.
Chardonnay's vast versatility allows it to pair perfectly with many different dishes, from light summer salads bursting with fresh produce to winter warmers like creamy pasta or white meat dishes. It's complex and driven by an array of flavours. Though specific tasting notes change depending on the region it's grown and the winemaking process, Tulloch's famed EM Chardonnay has ripe stone fruit notes, with a subtle oak influence.
Chardonnay has had a real popularity resurgence lately, and not just in broad appeal but also in how it's considered. There's no longer any shame in the game for bringing Chardonnay to even your fanciest friend's dinner parties. In fact, you're likely to be a big hit.
Shiraz
Shiraz is a popular answer from guests who visit our cellar door when we ask for favourite wine choices. Thanks to the Hunter Valley's warm climate, the Shiraz we produce in the region is medium-bodied and full of flavour. Flavours of luscious red and black berries make it a natural choice to be paired with red meat dishes or rich sauces but doesn't give you that bitterness and astringent feeling on the palate that more intense reds can have.
We have six styles of Shiraz at Tulloch, with our most famous of course being the Hector Shiraz (named after Hector John Tulloch, our second-generation Winemaker). Its velvety tannins with blackcurrant and plum flavours is one of our most requested wines.
Hunter Shiraz appears to find its popularity in its ability to please seasoned wine lovers, while also being a great introductory drop for people new to wine, or new to red wine. The Hunter is internationally regarded as having incredible shiraz, with a reputation for the perfect growing conditions of the dark skinned grape.
Taste these four classic Hunter Valley varietals at our Pokolbin Cellar Door with our Hunter Heroes Wine Tasting Experience. In this tasting 6 Tulloch Wines have been chosen to perfectly represent the 'Hunter Heroes', the best known grape varieties of the Hunter being Semillon, Shiraz, Chardonnay & Verdelho. Included in this tasting is a wine from our museum cellar giving you an opportunity to taste and compare an aged Hunter wine alongside current release wines.