Spring Wine Guide
Author: Brad Russ
Date Posted: 16 October 2023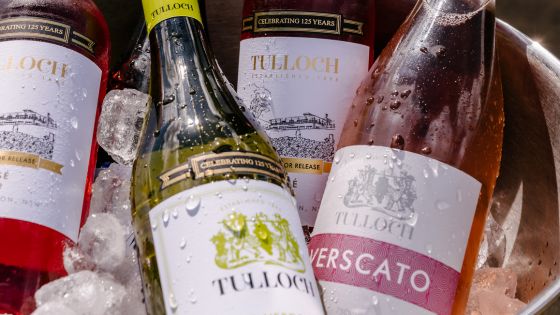 How good is Spring? It's perfect room temperature, but outside. The world says, 'You know what? Winter has been hard, here's the perfect season to bask in for three months'. And bask, we will. With wine, of course. Whether planning a picnic, garden do, or simply enjoying the view of the Hunter Valley from Tulloch's wrap-around balcony, the right wine can elevate your springtime. Our spring wine guide gives you a variety of wines that we think pair best with the season's flavours and occasions. From crisp whites to light reds and sparkling delights, there's a spring wine for every palate.
Crisp and Refreshing Whites
Verdelho
Known for its zesty acidity, Verdelho is a quintessential spring wine. It pairs exceptionally well with salads, seafood, and fresh vegetable dishes.
One of the standout features of Verdelho is its fruity sweetness paired with zesty flavours and tropical aromas of ripe passionfruit. Beautifully approachable in style, Verdelho is the perfect Spring-time wine.
Semillon
Semillon's intense citrus notes and zesty sherbet finish give it a textural palate structure that fits just right with the sensory parts of springtime (warm, but not burning hot, sun on the skin, scent-filled breezes and all those blooms we admire in others' gardens until we can ever figure out how to keep even a cacti alive).
This varietal's versatility and adaptability offers a unique taste experience that perfectly complements the season with its lush and inviting qualities. Whether enjoyed on its own or as part of a delightful pairing, Semillon's blend of texture and flavour invites you to savour the nature growing in real time around you, that is so characteristic of spring.
Light and Floral Rosés
Rosé
But by any other name… Rosé was born to be a springtime drink. Renowned for its pale pink hue and delicate flavours of rose petals and citrus, rosé is a classic choice for springtime enjoyment. It pairs wonderfully with charcuterie and Mediterranean dishes.
The rose petals give an obvious nod to the floral aesthetic that is spring's thing, coupled with bright and lively citrus it is vibrant, energetic and zesty. The wine's refreshing acidity adds a crisp and revitalising quality, making it the ideal companion for outdoor gatherings, picnics, and al fresco dining experiences.
Verscato
In springtime, Verscato's balance of sugar and acid is truly a breath of fresh air. Aromas of violets, rose petals and Turkish delight evoke the feeling of a sunny, brisk spring morning that lifts the spirits. With Verscato in your glass, it's as if you're sipping on spring itself.
Verscato pairs perfectly with the lighter, fresher flavours of spring foods. Perfect as an aperitif or with fruit desserts. Whether enjoyed on a sunlit terrace or served alongside a leisurely springtime meal, Verscato allows you to savour the vibrancy and beauty of spring with every sip.
Vibrant Light Red
Barbera
Barbera is an excellent choice for springtime sipping for its renowned bright acidity and vibrant fruit flavours, making it a refreshing wine choice as the weather warms up. Its lively red berry notes add a burst of fruit, like those ripening around us through the season.
This wine's moderate tannins and balanced structure make it an ideal partner for a wide range of springtime dishes. Whether you're indulging in grilled vegetables, fresh pasta with tomato-based sauces, or even barbecue, Barbera's acidity helps cut through the richness of these dishes while enhancing their flavours. Its adaptability makes it a go-to choice for springtime gatherings, making it a wine that truly celebrates the season's good times.
Sparkling Delights
Cuvee
Cuvee embodies the spirit of springtime with its effervescent celebratory nature. And who isn't celebrating being able to pack those bulky jackets and jumpers in the suction bags, to be forgotten until next year..?
With the season's blossoming flowers and warmer weather, it provides the ideal backdrop for indulging in the fun complexity of a carefully curated Cuvee. With its green apple and citrus notes, it's incredibly refreshing to start, and finish, and spring soiree. Serve as an aperitif with canapes of oysters or smoked salmon blinis.
Whether you prefer crisp whites, floral rosés, light reds, sparkling wines, or sweet dessert wines, there's a perfect bottle to enhance your springtime experiences. Explore these options, experiment with food pairings, and savour the flavours of spring with a glass of wine in hand. Cheers to a delightful spring wine journey!
Set yourself up for a spring-inspired wine selection with our Wine Club! Join today for incredible VIP benefits.