How to plan the day for the Hunter Valley Gardens Christmas Lights?
Date Posted: 13 December 2022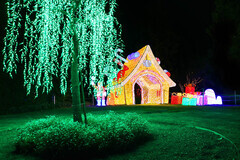 It's that magical time of year when the Hunter Valley Gardens Christmas Lights Spectacular lets us know the holiday season is well and truly here. Bringing your family to this iconic Hunter Valley event is a treasured pastime, but there's nothing better than making the most of the trip out with some of the equally magical experiences the Hunter, and Tulloch, has to offer.
Stay
With daylight savings giving us longer daylight hours, it can end up being a late night waiting for night to fall and reveal the full effect of the Christmas lights. Instead of worrying about making your way home, make it an excuse to stay in one of the incredible accommodation options in the Hunter. Wine Country has an excellent round up of places (some we've personally stayed at, and can personally recommend!) for groups and families, and some farm and vineyard stays for something a bit special.
Eat
In continuing to appease your senses, there are plenty of options to choose from through the hunter to fill the belly before you take in the lights.
If you're looking for a locally sourced charcuterie board before you head out for light watching, Tulloch offers wine tasting paired with local cheeses and charcuterie, and tastings paired with local made chocolates for a sweet start to your Christmas adventure. (Tulloch has this option available until 5pm daily).
For more meal options, the Hunter generally has a bunch of places to take your family, partner and friends for a meal, from takeaway and pubs to fine dining, and the Hunter Valley Gardens has a host of food options too.
Drink
While we're all young at heart and get a kick out of big Christmas lights energy, it's the actual kids who bring true spirit to this time of year. At Tulloch, we don't want them to feel like the experience isn't for them too. If you're waiting for the sun to go down before heading out to the light spectacular, come and share in a tasting; wine (or kombucha) for the parents while the kids' enjoy the Junior Tasting Experience (lollies, chocolates, yummy flavoured drinks and milk, plus a fun activity pad!). It's more than just keeping the kids occupied, it's letting them be part of the sensory adventure.
Be Merry
It's only Christmas once a year, and the Hunter offers a huge amount of seasonal cheer. And, with that, try and stretch out the experience as much as possible. For families, take in the warm sun with a chill out in our Tulloch garden (shady spaces for the adults to enjoy a drop, while the kids play on the grass). Additionally, taking the family to, or having a romantic picnic in, the Werakata National Park is a must-do, especially if it's a beautiful summer's day.
You can also take in the local talent with multiple options for live music performances (including through the Hunter Valley Gardens) that will get you in the festive mood.