Best time to visit the Hunter Valley for a wine tasting
Author: Brad Russ
Date Posted: 15 November 2023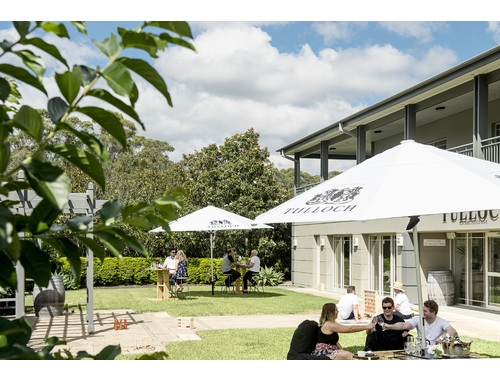 A shorter answer would be 'when is the worst time to visit the Hunter Valley for wine tasting?' because the answer would be 'Never. Thank you for attending our TEDTalk'. But, we are hard workers here and won't shy away from effort, so we thought we'd take delight in giving you the longer, and more fun, answer to the better question of when the best time to visit the Hunter Valley is. The real way to gauge the best time to visit is to base it on what you personally love about the Hunter and heading out to this beautiful region to experience it; which, let's face it, could be every season of the year. Here's what's on and what to expect throughout the year in the Hunter Valley, so you can pencil in your place for a wine tasting, and more.
Spring in
September - November
The first hint of the changing seasons is the eagerly anticipated budburst, which typically occurs in early spring, along with the early shoot and leaf growth throughout the season. This is a truly visually spectacular season to sit on the terrace at Tulloch and take in all the rich greenery. Additionally, throughout September and October, many of our new vintage reds are released making it the perfect excuse to visit the Cellar Door for a tasting.
Visiting the Hunter Valley during budburst is a unique opportunity to witness this natural colour therapy firsthand. Our Cellar Door wine tasting typically gets even busier (though never crowded, the Hunter is a big place!) as budding viticulturists (ahem… add this to your fancy dinner party chat - a specialist in the cultivation or culture of grapes for winemaking) come to sip and see the upcoming harvest.
Swingin' from Spring and Summer
November - December
As the days get longer and the temperatures rise, flowering and fruit set commence in late spring to early summer. This stage is crucial, as it determines the potential grape yield for the season. The vineyards look incredible as they bloom with flowers and baby grape clusters.
Also, from the 3rd of November, the amazing Christmas Lights Spectacular at the Hunter Valley Gardens (which has over 4 million festive themed lights on display) begins. This is a hit for kids and parents every single year, with stacks of food, fun and rides to complement the immersive Christmas experience. Before you head there, have the kids try Tulloch's Junior Tasting Experience of flavoured milk, sweets and treats while you take a sip of your favourite wine types, and be inspired by new varietals for your festive wine fare.
Ripe and shine for early Summer
December - January
By December and January, the vineyards are filled with the sweet smell of fruit ripening, signalling the upcoming harvest. It's a time of great anticipation around here as the grapes mature and become ready for picking. The landscape becomes all golden-y and delightful, which looks so good (very Insta-worthy) in the mid-morning and mid-after sun especially, making the Hunter really come alive at this time. Hot tip: if you're looking for a time to propose in the Hunter, a little post-New Year's weekend away is the time to do it.
Autumn in sight
January - March
Harvest season! This is the commencement of the winemaking process, typically taking place from late summer to early autumn, from January to March. It's a time of celebration and hard work as the grapes are carefully picked and processed to create the wines we all love. It's this time of year that the vineyards come alive with ripened full-coloured grapes, ready to be picked for some of the region's best wines. It's a real experience in appreciation for the area and wine's inception, and gives that quintessential 'vineyard' backdrop that you imagine. It's a very sensory experience that binds the process, the region and the flavours in one visit.
Scarf season
March - August
As the harvest season comes to a close, the vineyards enter a period of rest known as winter dormancy. This period, from March to August, allows the vines to recharge and prepare for the next growing season. It's also the release of our new vintage whites – a perfect time to taste and try!
Visiting the Hunter Valley during the winter dormancy is an ideal time for a more intimate and peaceful wine tasting experience, where you can savour our aged red wines in a cosy atmosphere.
In June, we also host our inaugural Hunter Valley Wine Club Members Lunch. Hosted a different venue each year. In 2023 the acclaimed Circa 1876 restaurant in Pokolbin hosted our Wine Club members for a stunning three-course meal paired with a favourite selection of Tulloch wines.
July sees the Hunter Valley Wine & Beer Festival at the Rydges Resort Hunter Valley. Celebrating and showcasing the extensive wine, spirits, beer, cider and gourmet food the region has to offer. There are also kids events and other fun stuff to do while you're there - it's a whole family event that shouldn't be missed. (And it sure beats another round of Frozen on a cool winter weekend).
There is so much to do, drink and just enjoy in the Hunter, and Tulloch are so thrilled to be a big part of that. Whether you prefer rugging up with a red, taking a sip in the sun, or are big fans of both, there really isn't a time of the year that isn't a special experience in the region.

Become a member of our Wine Club for updates and access to our VIP events!