At home tasting: The best pairings for a date night
Author: Jack Biddles
Date Posted: 12 April 2023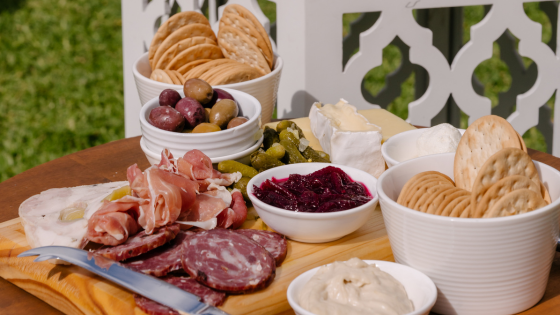 Wine and date night go hand in hand. It's the renowned drink of choice for lovers, from first dates to opening an aged bottle for your 50th wedding anniversary, there's nothing better than enjoying a glass with the one you love (or dating, no pressure). Throughout the year numerous couples visit our Pokolbin Cellar Door for a tasting experience, it's a great opportunity to enjoy some great wine paired with locally made gourmet produce. It's always a really fun experience for them, and us! However, we know that it's not always possible to sneak in a getaway to the Hunter every date night. It doesn't mean you have to give up the experience altogether, though. If you need to wait until the kids go to bed, or simply want a cosy night in, here's our pick for the best pairings to make your at-home date night a bit more special.
Date night, but make it (Char)cute(rie).
Whether as pre-dinner grazing or making a more robust charcuterie and wine pairing experience the main event, the marriage of charcuterie and wine is age-old. One of Tulloch's most popular tastings, in fact, is the Mystery Wine Tour Tasting Experience which includes a generous local cheese and charcuterie board.
To make it a tasting experience and not just eating food with wine (which we equally endorse), break up the elements of your charcuterie between three or four different wines.
Here are our suggestions to get you started…
Meat
When you think charcuterie, there's immediate visions of ribboned shaved cold cured meats, and some heartier spicy salami. For the thinner sliced, salty, meat varieties like prosciutto, we recommend including a wine like our Sangiovese Cellar Door Release 2022 bursting with flavours of plum, cherry and a hint of spice, it's a trustworthy option to have on the table. If you're after something with more intensity to compliment that hot pork salami, look no further than our Tempranillo Cellar Door Release 2022 delivering flavours of juicy red berry fruit with a rich mouthfeel followed by a long lingering finish.
Fruit
Fruit is obviously already coming to the table with its own sweetness, and you don't want a wine to compete with those flavours, but rather complement it. With that, our Verscato Cellar Door Release NV, with its fresh and fruity characters of strawberries, rose water, and Turkish delight is a perfect combination. Serving the Verscato with some fresh berries in the glass adds an extra burst of flavour, but in a very balanced, non-overpowering way – it won't taste like overdone punch fruit, promise!
Cheese
Just like wine, not all cheeses should be left in the same category. For sharper cheeses like blue cheese or aged asiago, a lighter varietal like the Barbera Cellar Door Release 2022 will mutually bring out the flavours without competing or being too dry or tanic. However, for something like creamy brie, you can't go wrong with our Tulloch Verdelho 2022 or enjoy it with a glass of sparkling Cuvee that has a fresh zestiness to balance the soft, mellow cheese.
For your main (squeeze)
If you prefer to incorporate wine pairing into your main meal, and invest in a wine for the night rather than taste a selection of wines, there is no limit to what you can create in the kitchen and choose from the cellar.
There are some pairings we can't go past, like an aged bottle of Hunter Valley Shiraz from our museum collection to go with a quality cut of steak or our Limited Edition Cabernet Sauvignon 2021 paired with a wild mushroom risotto. However, we might skew our advice here on how to select your pairing.
Do you want to start with the dish, or with a wine you've been really looking forward to trying? It's best to start with what you're most excited about, and then increase the flavours of it with either a wine or a food pairing, depending on where you started. The whole point of pairing is to have a really satisfying overall experience, so make what you love, better.
Do it your way
The great thing about pairings, and wine in general, is that it's best enjoyed your way! Make date night pairing fun and experiment with different flavour combinations, and just eat your favourite foods and drink your favourite wines with your favourite person… you can't go wrong. It's about testing your senses and finding new and interesting ways to enjoy things you've had before, or open up to new varietals.
When you experience a Tulloch tasting, we help guide you to what you like and how you like it, so that you can take a bit of us, and your newfound wine knowledge, home with you.