How to get VIP treatment wine tasting
Author: Christina Tulloch
Date Posted: 14 February 2018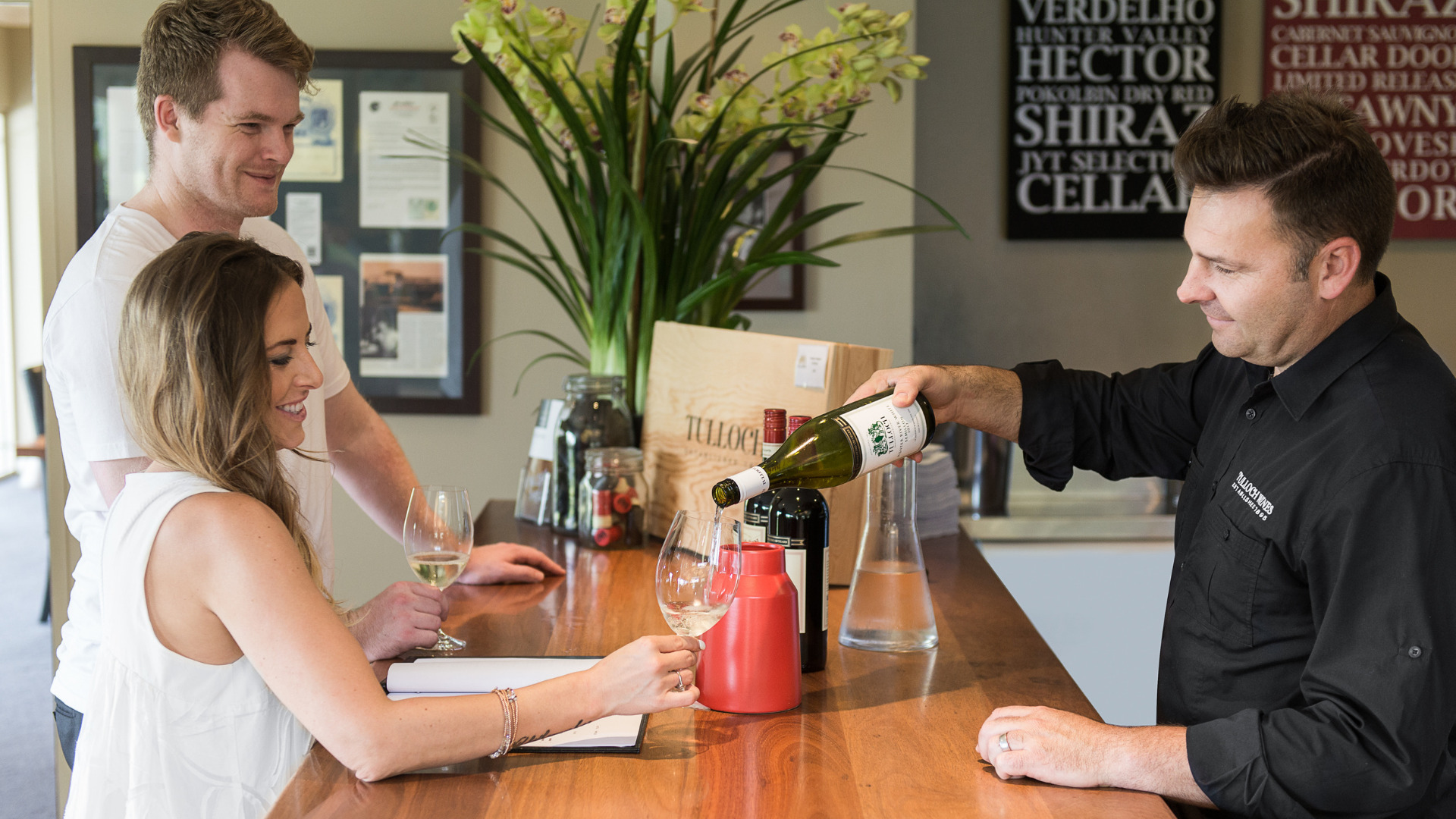 Here's how to make sure you get a great wine tasting experience.
Australia's tourism industry is booming and behind the photoshopped images of idyllic beaches and bush-settings, wine and food tourism is fast becoming the tour du jour for those in the know.
There are at least 2500 wine producers in Australia that we know of, and more than 1600 cellar door offerings between six states. NSW alone boasts 351 of these cellar doors, a whoppping 76%. Visitor numbers have also reached critical mass with anywhere between 800,00 and 1 million visitors to the Hunter Valley annually.
With stats like these, there are bound to be some pretty average wine country experiences to be had for the uninitiated. But, do not despair, with these insider tricks you'll be guaranteed the VIP treatment at every cellar door you visit, and as you sweep past the masses, you'll leave jealous tourists in your wake with wistful stares wondering, "who are those people and what makes them so special?"
GET THE UPPER HAND EARLY
Proprietors seem to think that because you have walked in their door, you are a captive audience to which they can sprout as much boring wine jargon at you as they like. Wrong, the stockholm syndrome does not apply to wine tasting! Take control of your tasting and don't settle for a boring lecture from a wine nerd. Chances are you're away for the weekend and you want to have some fun, so take control of the wheel and steer your wine journey down your own path. This also signals to the person serving you, that a) you know enough to not be pushed around b) you are confident in your choices and c) you are worth taking the time to fawn over because you established the upper hand early on.
DON'T SETTLE FOR A WINE TASTING WHEN YOU CAN HAVE A WINE EXPERIENCE
Your average wine tasting is a bit like having boring wine words being spoken at you while people jostle for counter space. You deserve so much more than this, you've worked hard all week to be able to afford this weekend escape from the city. The answer is an exclusive (not necessarily expensive) immersive wine experience. Do your research on who offers what and book in advance, when you turn up they'll know you're coming and welcome you with open arms and big glasses with special wines. **Blatant self promotion warning, we offer some great wine experiences at Tulloch from as little as $15/head, all are private, seated tastings you can work through at your own pace with an element of food. Check them out here.
ASK FOR ADVICE
So its time for a hard truth, if you walk into a cellar door, grab a tasting sheet and say, "let's start at the top and work our way through", no one will take you seriously. Even if you really are planning on buying 25 different wines, this approach will almost certainly result in lacklustre customer service and the assumption that you are just there to get pissed. Ask what they recommend, what is the house specialty, "I usually drink X, what do you think I will like?". This indicates you are a customer not just a taster and provided the establishments wines are up to scratch, you will most likely purchase. Buying signals = great treatment. It might mean they show you a wine not usually available for tasting (yes we always have some hidden under the bar) , you might be offered a seat or complimentary cheese, but at the very least you will be treated with the respect only a genuine potential customer deserves.
ASK FOR LOCAL RECOMMENDATIONS
Cellar doors are usually located in Wine Regions, which means the small country town adage of "I heard it on the grapevine" (you see what I did there?) is very much your key to the private cellar. If you arrive at cellar door with a personal recommendation to visit from someone we know at another cellar door, then you're in. "Dave from Tulloch sent me to see you, he said you'd look after us and that we should try your X wine". Kerching, Dave is friends with this person at the other cellar door, Dave likes you and thinks you're a good customer, he is going to send you to his mates who he can rely on to also show you a good time. Dave is now a great bloke, he referred business to a friend and made you look important in the process, nice work Dave!
SIZE DOESN'T MATTER, IT'S WHAT YOU DO WITH IT THAT COUNTS
Big cellar door versus small cellar door, versus cellar door advertising case sales for $50. General rule of thumb, if someone is advertising really cheap wine and visually assaulting you with homemade signs or banners, their wine is no good, their service is no good and even offering to practically give the wine away, is still not going to end well for anyone involved. However, size does not matter, you can have a great experience at both big and small cellar doors. Really good, big cellar doors are generally set up to handle volume, so a couple or a bus group of 100 can all still have a great and unique experience. Small Mom & Pop establishments can also give good cellar door, the key is research and reviews. Check who is getting great reviews on third party sites and why and then choose a range of experiences based on the vibe you are looking for.
LET US KNOW YOU'RE VISITING
It really is that simple. Send us an email, drop us a line. Size doesn't matter here either, even if you're only 2 or 4 people, book in and let us know you're coming. We'll roll out the red carpet, greet you like an old friend and ensure we have allocated someone great to look after you and give you an epic personal wine experience.
JOIN THE CLUB
Wine Clubs come in all shapes and sizes, (**blatant self promotion warning, here is some information on ours, we think it's the best wine club on offer and that's because we make it all about you and delivering you great value, choice, service and wine- love). When you're part of a club, you're arrival at cellar door should herald instant rockstar status. You should be ushered into a private space (like our 1895 Members Lounge), fanned with palm fronds and hand-fed grapes while staff members buzz around you dazzling you with their wares. If you're a member of the wine club and you bring your friends to visit us, we will make you look like wine royalty, and if the winery in question doesn't, you're in the wrong club and you need to join ours stat.
BE ADVENTUROUS
Don't be scared to try something new or a little different. It shows you're adventurous and probably more likely to let us entertain you with our witty wine banter. Wine and wine tasting should first and foremost always be fun. Your willingness to discover our wines excites us and makes us want to nurture you along a wine journey customised just for you, our newest wine love.