Newly Released 2021 Tulloch Tempranillo & Barbera
Author: Christina Tulloch
Date Posted: 23 September 2021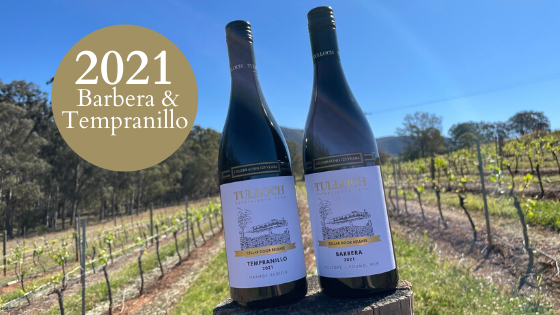 As one of the most highly anticipated releases of the year, the new 2021 vintage of our Tempranillo and Barbera has landed at our Cellar Door. Learn more about these two exciting new releases below.
Cellar Door Release Tempranillo 2021 (Orange Region)
Origins of Tempranillo
This is a Spanish variety, and it is the dominant red wine variety in that country. The Spanish wine region of Rioja (pronounced ree-o-ha) has produced the most famous and respected examples of Tempranillo.
What does it taste like?
Flavours of Strawberry and dark cherry are common flavour traits. Use of oak will promote some spice and tobacco characters. Generally medium bodied with a good finish that is not overly complex.
What food does it go with?
As a relatively simple style of red wine there are good pairings with red meats, mezze platters and food with complex spice notes.
What is Tempranillo like outside of Spain?
Australia is one of the most enthusiastic producers of Tempranillo outside of Spain. Our Tempranillo delivers a rich brick red colour with hints of herbs and strawberries on the nose following a long, full finish with plum and red berry fruit characters on the palate.
Cellar Door Release Barbera 2021 (Hilltops – Young)
Origins of Barbera
Barbera hails from the Northern Italian region of Piemonte, known as a something of workhorse grape. However, in more modern times advances in Italian winemaking has seen this variety become widespread across Italy and improve greatly in quality.
What does it taste like?
It is a grape variety that is persistent in tannin and high in acidity. This results in wine that is usually fruit forward and lively. The use of oak helps add a spicy touch to the wine and gives some structure to the body of the wine. Generally lighter in style, forest fruits such as red and dark berries is a typical flavour character.
What food does it go with?
As its origins are thoroughly Italian, Italian foods such as pasta, risotto and game meats make great pairing with Barbera.
What is Barbera like outside of Italy
Tulloch has always sourced Barbera from Central NSW. Our Barbera has a deep rich red colour with dried leaves and spices on the nose in addition to alluring dark cherry and plum flavours with persisted tannins.