Introduction to Misfits & Mates & the French Wine Selection
Author: Christina Tulloch
Date Posted: 16 March 2021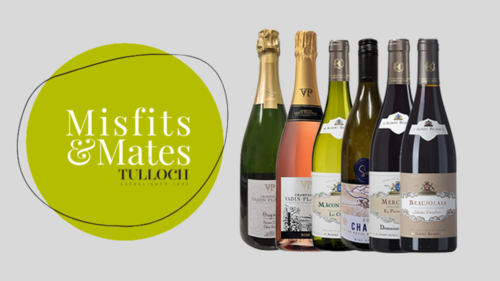 Purchase our selection of French Wines here
Misfits & Mates is Tulloch Wines new partnership and collaboration brand. It is an opportunity to introduce fresh new ideas and products from brands that we love, trust and enjoy.

Sometimes the partnerships and products will directly relate back to the Tulloch brand or family – we call those 'Mates'
Other times the products and partnerships may not have a direct link to Tulloch – those we call 'Misfits'

Our promise is that all products, 'Misfits & Mates' will be carefully curated and tested and always sit comfortably alongside our own much loved Tulloch Wines.

Our first 'Misfits & Mates' opportunity this year is an exclusive offering of a small selection of wines from the French regions of Champagne and Burgundy. Stephane Pommier known about the Hunter Valley as 'Frenchy',has started his own wine consulting business producing his own outstanding 'Som' Chablis as well as being Brand Ambassador with exclusivity for two French labels, Albert Bichot from Burgundy and Champagne Vadin-Plateau.
In consultation with Stephane, the Tulloch team have selected 6 wines (2 x Champagne, 2 x White and 2 x Red) that we think you will love.
Don't take our word though - view our curated selection of French wines here!
- Christina Tulloch