Introducing the Hunter Valley Shiraz Spirit Eau De Vie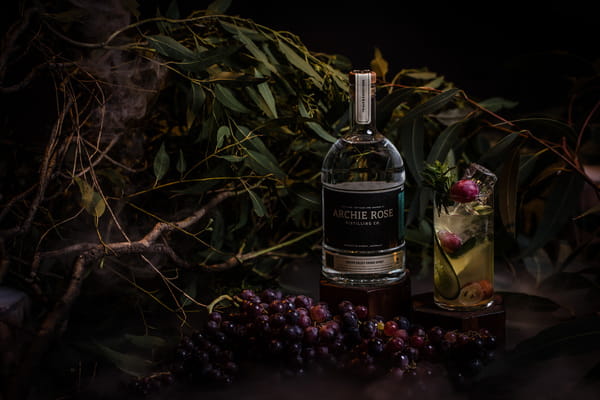 We're excited to share the pre-release of our recent collaboration with Archie Rose Distilling Co. and First Creek Wines, with the Hunter Valley Shiraz Spirit, an eau de vie distilled from salvaged smoke-tainted grapes from the difficult 2020 vintage.
This pre-release of only 100 bottles is exclusive to our 1895 Wine Club members and represents a much needed sliver spirit lining to the Hunter Valley community following the quadruple threat of drought, bushfires, smoke taint and Covid 19.
The is the first product in the three-part series from Archie Rose, created to support the Hunter Valley wine community following the devastating 2019/20 bushfires which saw as much as 80% of Hunter Valley grapes affected by smoke exposure.
Tulloch Wines CEO and fourth generation, Christina Tulloch, along with her sister Victoria Tulloch, Head of Marketing at Archie Rose, first stumbled upon the idea of a collaboration when one of the Archie Rose distilling team floated the idea of experimenting with smoke affected fruit. Driven by a desire to forge innovative collaborations, and to support local producers and growers in the process, it soon beacme clear that a collaboration would be very welcomed by small scale Hunter Valley winegrowers whose livelihoods were under threat.
Liz Silkman, head winemaker at First Creek Wines, soon joined the party to assist in the processing of the salvaged fruit which otherwise would not have had a home and growers would not have been paid for, despite the previous 12 months investment in growing the grapes.
Packaged as the second release under the Archie Rose Trials & Exceptions Series, a new range reserved for exceptional casks and small-batch trials, this innovative eau de vie is one of the first of its kind in Australia and showcases an experimentation with wine made from 50 plus tonnes of smoke-tainted Hunter Valley 2020 shiraz and cabernet sauvignon grapes with the majority of spirit to be aged for release as a brandy in coming years.
With a strong ethos around supporting local producers and growers, a penchant for innovative collaborations, along with team members whose families were impacted by the Hunter Valley harvest write-off in January 2020, this initiative was conceived together to provide support and relief to the Hunter community.
Displaying lively notes of tropical fruits, crème fraîche and berries with just the slightest suggestion of smoke, its an adventurous spirit, unusual at first in taste but excellent with the simple addition of fresh-pressed apple juice or even Coca-Cola and freshly squeezed lime juice. Or why not try it in our twist on the Paloma—The Pokolbin, where the eau de vie effortlessly replaces tequila in a knock-out grapefruit highball. View more recipes here.
Note: This product is currently sold out!
700ml Bottle Size. 40% Alc/Vol
Product of Sydney, Australia
Archie Rose Trials & Exceptions Boxes are to be opened in an upright position.