Drought, Fires & The Road to Recovery
Author: Christina Tulloch
Date Posted: 16 January 2020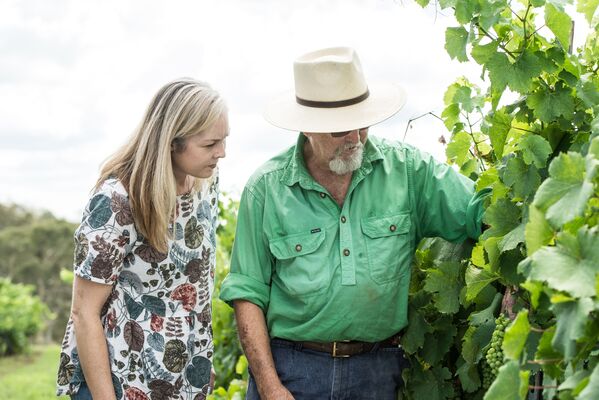 What a way to start our 125th year in the Hunter Valley! We have been so humbled by the many members who have reached out to us over the past 3 months to check on how we have been coping with the unprecedented fire conditions and the effects of drought.

I have waited until now to communicate with you all, our most loyal members, so I can be sure I am providing you with a precise and clear picture of the scale of what we are dealing with as vintage 2020 progresses.

I am pleased to report there are glimmers of hope, and certainly the fact that we have escaped loss of infrastructure and property is a miracle. First and foremost our thoughts are with our friends in wine regions across Australia who have not been so lucky. However, we have had large scale fires burning in and around the Hunter Valley since late October 2019, of most significance to Tulloch is the large fire that has been burning uncontrolled in the Pokolbin State Forest in the Brokenback Mountain range behind cellar door. The drought has also hit us hard, with significant crop reduction.

Our main concern in terms of production has been smoke taint, where the fruit can be tainted by free volatile phenols that are produced when wood is burnt. These compounds can be absorbed directly by grapes and can sometimes bind to grape sugars during fermentation, releasing the volatile phenols into the must or wine, with the potential for smoky flavour to be perceived. We have managed to pick about 80% of our white grapes from our large vineyard in Denman in the Upper Hunter Valley, which was not affected by smoke taint and the Verdelho, Semillon and Chardonnay wines we will make from this fruit will be very good.

Unfortunately we have had to make the very difficult decision to not pick any Shiraz fruit from the Hunter in 2020. We have been working closely with the Australian Wine Research Institute and sending all our fruit for testing for smoke taint compounds, combined with conducting micro-ferments in the winery and sensory evaluation. The wines we will make have passed these tests, but the necessity for extended skin contact for red wines and the potential for adverse smoke taint, presents too great a risk. This means we will not make Pokolbin Dry Red Shiraz, Private Bin Pokolbin Dry Red Shiraz, Cellar Door Release Limited Edition Shiraz, Limited Release Hector Shiraz or our G Series G3 Shiraz in 2020. This is not a decision we have taken lightly and at this stage we are still hopeful to pick fruit from Orange and Young, but we will continue to asses this and the potential for smoke taint as the fruit reaches maturity.

How can you help?
Visitation to the Hunter has been negatively affected by the perception we are on fire, we urge you to come and visit us at cellar door, we are open for business and ready to welcome you to the Hunter Valley. Keep buying our wines from us directly and ask for our wines in your local bottle shop and when you visit restaurants and cafes. Be patient with us, as you may find some of your favourite wines simply won't be available for a period of time, or take the opportunity to try one of our wines you haven't tasted before. Join us at one of the many member events we hold over the course of the year and encourage your friends and family to come along too.

Thank you for your ongoing support during this difficult time and here is to a healthy, happy, rain filled 2020.

Christina Tulloch.